Timeline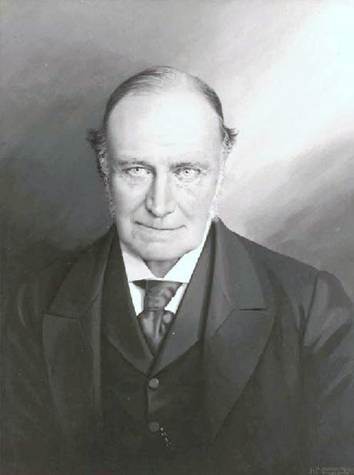 1829 – John Innes Born
John Innes born in Hampstead, London.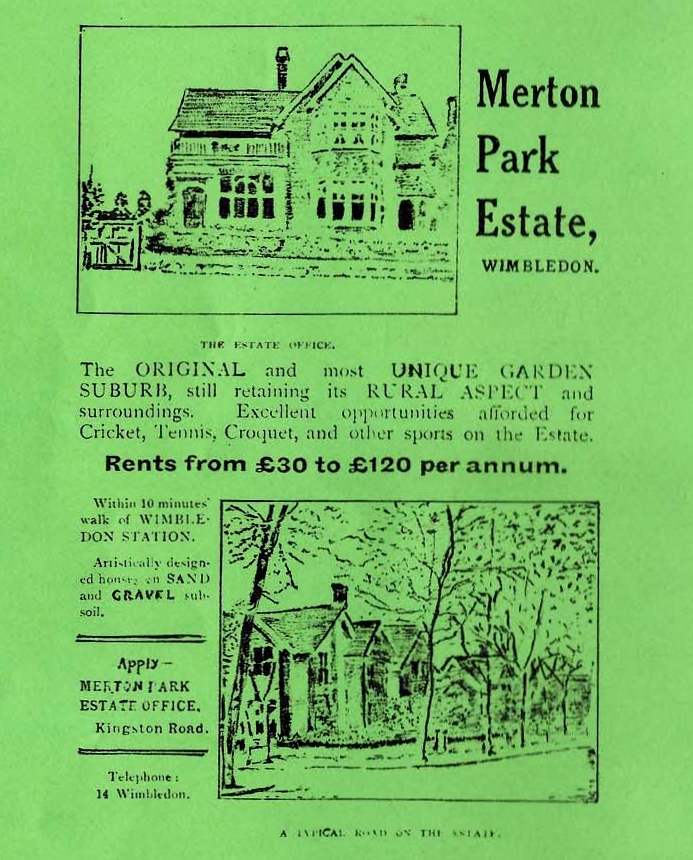 1864 – John Innes purchases 'Merton Park'
John Innes purchased Merton Manor House and estate at 'Lower Merton' in Surrey. This was re-named 'Merton Park' with a view to developing it as a 'Garden Suburb'.
1904 – Death of John Innes
John Innes died leaving money for a horticultural institution or public art gallery. The gross value of his estate was £338,026 and the greater part of it went to endow the new institute.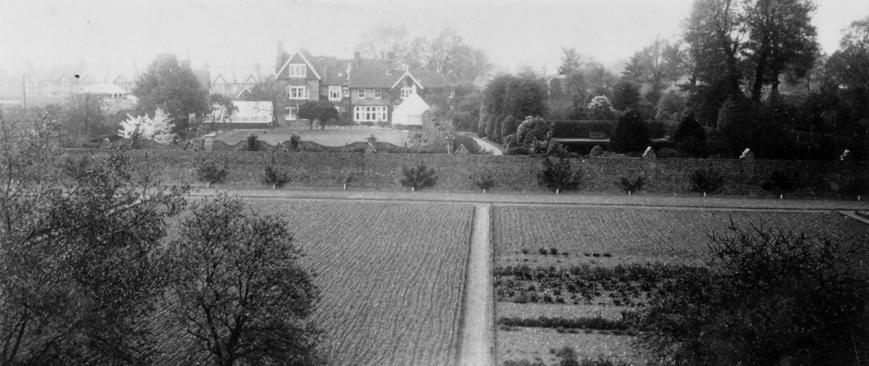 1909 – John Innes Horticultural Institution begins & local charities funded
After considerable debate agreement was reached to found the 'John Innes Horticultural Institution', its purpose 'to carry out investigation and research whether of a scientific or practical nature, into the growth of trees and plants generally.' The new institute was designated the Board of Agriculture's fruit breeding research station and Sir David Prain, Director of the Royal Botanic Gardens, Kew, was appointed the first Chairman of the Advisory Council. The charitable scheme also provided for an educational endowment to Rutlish School at Merton which John Innes had been instrumental in establishing.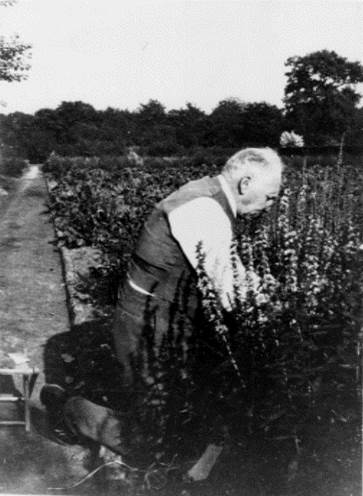 1910 – Laboratories built and William Bateson appointed Director
With the building of laboratories underway and research plots laid out, research started under the first Director, William Bateson, FRS. Bateson, formerly Professor of Biology at the University of Cambridge, was a leading figure in the new science of genetics.
1919 – W Bateson and Rebecca Saunders launch the Genetical Society
Bateson and E. Rebecca Saunders launch the Genetical Society (now Genetics Society). Since its foundation seven John Innes staff, or ex-staff, have served as Presidents, including J B S Haldane, Cyril Darlington, Sir Kenneth Mather, Dan Lewis, John Fincham, Sir David Hopwood and Enrico Coen. All were also Fellows of the Royal Society.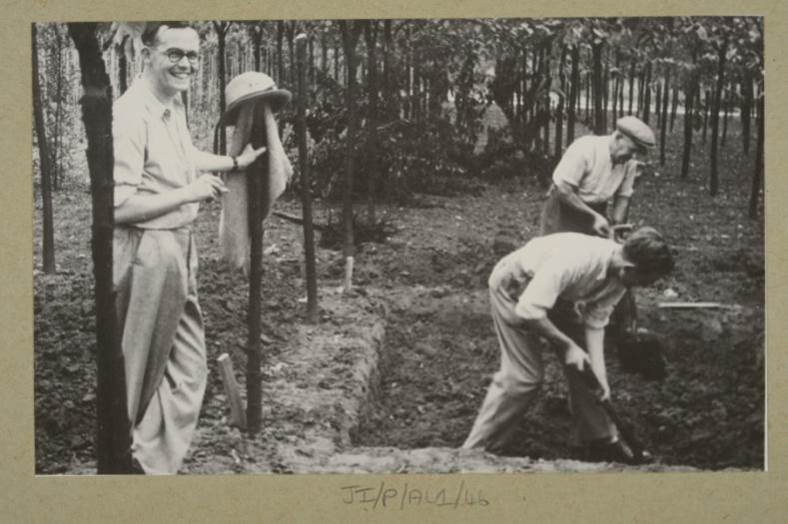 1923 – An additional 4.5 acres purchased and fruit breeding research expands
The Trustees purchased additional land, part to be used for commercial fruit variety trials. The first 'John Innes' variety, a blackberry, was released in 1930. Over the next 50 years 53 new fruit varieties were released, the early varieties all including the prefix 'Merton', and many received the RHS Award of Merit. Additionally, 28 new flower varieties and 15 vegetable varieties were produced. Fruit breeding was one of the main lines of research at John Innes until around 1970.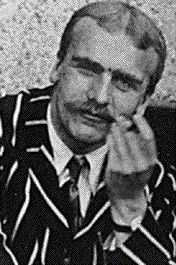 1927 – New Director Daniel Hall appointed
Sir (Alfred) Daniel Hall, FRS was appointed Director to replace William Bateson who had died suddenly the year before. Not a geneticist himself, he appointed J B S Haldane as 'Officer in charge of Genetical Investigations'. Under Hall a new chemistry department was established and the cytology department expanded.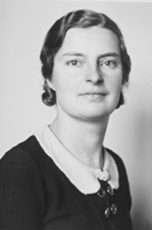 1929 – Research on anthocyanin plant pigments begins
Research on anthocyanin plant pigments began and biochemical research introduced to the Institute when Haldane recruited biochemist Rose Scott-Moncrieff. By the end of the 1930s Scott-Moncrieff had clarified the basic biochemical nature of the action of genes involved in anthocyanin synthesis and she is celebrated today for contributing significantly to the development of biochemical genetics.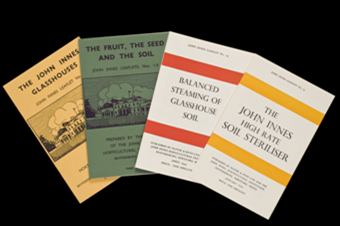 1934 – Work on John Innes composts begins
Between 1934 and 1938 Garden Curator William Lawrence conducted exhaustive trials on the best chemical and physical composition of soil for germinating seedlings and for potting on, perfecting methods of soil sterilisation and establishing optimum amounts of N, P and K fertilisers. These 'John Innes' composting formulae were published in 1938 but never patented and the Institute has never made or sold John Innes compost. As part of the war effort John Innes staff published a series of leaflets and gave radio broadcasts to inform the public of their improved methods for raising garden crops and new composts, making 'John Innes' a household name.
1939 – Cyril Dean Darlington appointed Director
Cyril Dean Darlington was appointed third Director of the Institute. Under his guidance it consolidated its reputation for excellence in genetics and horticultural research and grew from 64 to 100 staff. Darlington was elected FRS in 1941 in recognition of his contribution to research in cytogenetics.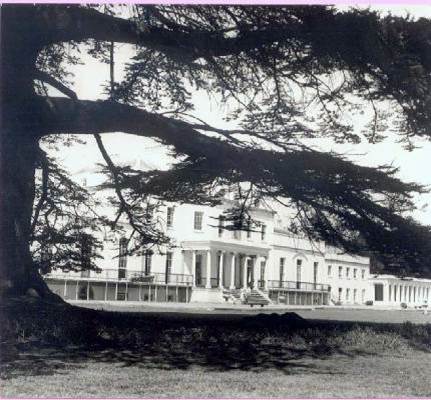 1945 – Trustees buy Bayfordbury Estate, Hertfordshire
A move from Merton, where urban air pollution was causing deteriorating soil and poor light quality, was first proposed in 1938 and in 1945 the Trustees purchased the 372 acre Bayfordbury estate, near Hertford. Progressively, the Georgian mansion, a former Dr Barnardo's Home, was converted into laboratory space and offices. The increased land available enabled experimentation with glasshouse design, and furthered the fruit-breeding and horticultural programmes, including what became internationally recognised work on snapdragons (Antirrhinum majus).
1946 – JIHI receives grant from Ministry of Agriculture
The Institute became a grant-aided station of the Ministry of Agriculture from 1st April 1946.
1946 – John Innes Park, Merton, transferred to Urban District Council
Since 1909 the Trustees had spent £40,000 laying out and maintaining the John Innes Park and Recreation Ground at Merton. In 1949 these were transferred to the District Council by Deed of Gift.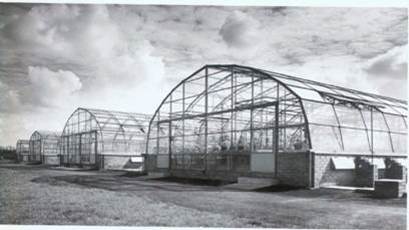 1949 – JIHI move to Bayfordbury completed
Between 1948 and 1949 the move from Merton to the new site at Bayfordbury was completed.
1951- New apple rootstocks launched
In 1951 a series of woolly aphid-resistant apple root-stocks, raised jointly by JIHI and East Malling Research Station, were sent to research stations all over the Commonwealth and the United States. The root-stocks, the result of thirty years' experimental breeding, were named the Malling-Merton series and to this day one remains a standard rootstock for garden and commercially grown apples.
1954- Kenneth Dodds appointed Director
Professor Kenneth Dodds was appointed Director. Dodds brought with him a team of researchers on potato genetics and began to recruit staff to expand microbial genetics at John Innes. He made the key appointment of leading fungal geneticist John Fincham to head the Institute's Genetics Department in 1960.
1954 – New John Innes compost launched
John Innes staff developed a special compost for Ericas, Rhododendrons and other lime-hating plants. Around 80% of Britain's nurserymen and gardeners were by then using John Innes composts.
1955 – Dan Lewis elected FRS for research on incompatibility in plants
Dan Lewis, head of the Genetics Department, was elected FRS in recognition of his pioneer work on the genetics of incompatibility, or 'S' gene', in flowering plants. This contributed to the understanding of incompatibility relations and breeding systems in higher plants and provided a tool for the study of spontaneous mutations and the potential that had for inducing self-fertility in normally cross-pollinated species.
1959 – Cell Biology building completed
The building to house a new department of Cell Biology was completed. This was intended to facilitate active collaboration between cytologists, physiologists, biochemists and physicists.
1962 – A possible move to Norwich?
Talks began with the new University of East Anglia's founding Vice Chancellor Frank Thistlethwaite about relocating to Norwich. This was partly in response to the Zuckerman Report (1961) which argued for research institutes to be located in close proximity to universities. In the consultations the trustees stressed their determination that the John Innes Institute maintain its separate identity.
1963-65 – Pioneering work in fungal genetics
John Fincham's extensive research on red bread mould resulted in his lab becoming a leader in the study of fungal genetics. Fincham's comprehensive book, with colleague Peter Day, Fungal Genetics (1963), was influential around the world.
1964 – Trustees acquire land in Colney, Norwich and a field station for fruit breeding
The Trustees acquired 29 acres at Colney to accommodate the Institute labs and offices. This was adjacent to the site of the new Food Research Institute with which institute had several shared research interests. The Trustees also bought 165 acres at Stanfield Farm, 20 miles north-west of Norwich, for a continuation of fruit breeding and from which the Institute produced new disease-resistant apples: the variety 'Gavin' resulting from this work. Apple research stopped around 1970, and fruit and flower research ceased in the early 1980s.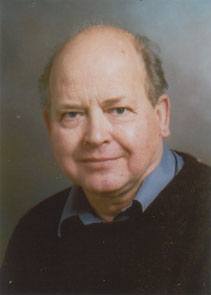 1964 – Birth of 'Holliday Junction'
Robin Holliday of the Genetics Department published a model of DNA-strand exchange to explain the major features of crossing-over, gene conversion, and post-meiotic segregation. His simple model incorporated the cross-stranded (or cruciform) DNA structure that later became known as the 'Holliday Junction' (a mobile junction between four strands of DNA), the cornerstone of recombination. The Holliday junction is still celebrated and investigated, the original model evolving to fit the present picture of DNA recombination and repair.
1964 – Pioneering work on snapdragons
In 1964 Brian Harrison and John Fincham published the first of a series of papers on genetic instability in snapdragons (Antirrhinum majus) showing that the level of instability is extremely sensitive to the temperature at which the plants are grown. Their work helped to usher in the molecular era of snapdragon research.
1965 – Funding of the 'John Innes Youth Centre' in Merton
The Trustees part-funded the demolition of the old John Innes (Merton) Boys' Club building and its replacement with a new building for the 'John Innes (Merton) Youth Centre'. The was then handed over to the Greater London Authority to run.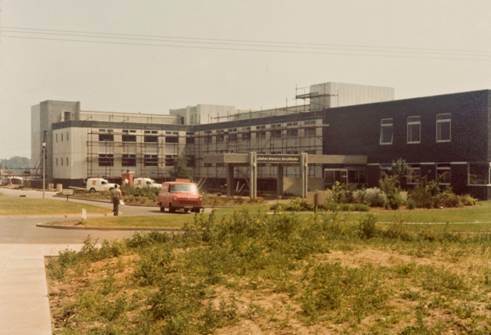 1967 – The Institute moves to Norwich
The Institute moved from Bayfordbury to Norwich to form an association with the University of East Anglia. The Agricultural Research Council Virus Research Unit (VRU) at Cambridge (Directed by Dr Roy Markham) was moved to Norwich and amalgamated with the John Innes Institute. Markham was appointed Director of the Institute.
1967 – Trustees fund three 'John Innes Professors'
The Trustees agreed to fund the appointment of three professors within the School of Biological Sciences (BIO) at the University of East Anglia: David Hopwood as John Innes Professor of Genetics, D. Roy Davies as JI Professor of Applied Genetics and Dr Roy Markham as JI Professor of Cell Biology. The three professors were also Departmental Heads at John Innes. The JIF Professorships ended with Markham's death-in-service in 1979, and the retirements of Professor Davies and Professor Hopwood in 1994 and 1998.
1967 – New facilities for electron microscopy
A new electron microscope laboratory and photographic section was funded by the Trustees and was completed in 1971. Using these facilities Markham and his team pioneered optical diffraction techniques and applied them to the investigation of plant viral coat (capsid) protein molecules.
1968-1973 – Trustees buy Hill House and complete the main Institute buildings
In 1968 the Trustees bought Hill House with 19 further acres at Colney and later converted it to provide accommodation for visiting workers. Over the next few years the Trustees built a new library and a Recreation and Conference Centre with a lecture room to seat 150 people.
1968 – Streptomyces genetics launched
Streptomyces genetics began at John Innes with the arrival of David Hopwood and four members of his group from Glasgow University. Streptomyces, the microscopic soil-dwelling bacteria are of interest today because many of the most important antibiotics used in medicine derive from them; they may also prove a source of new antibiotics and other medicines. In the 1980s Hopwood's group, with partners, cloned a complete set of antibiotic genes from Streptomyces and engineering the first hybrid antibiotic.
1971 – John Innes Charity PhD Studentships began
John Innes Charity PhD studentships began in 1971. When fully developed the studentship scheme allowed the four scientific departments at JI (Genetics, Applied Genetics, Virology and Ultrastructural Studies) to share twelve 3-year studentships around the cluster of project leaders.
1972 – First John Innes Symposium
The first John Innes Symposium was held in 1972. This event inaugurated a series of John Innes Symposia (normally held biannually).
1976 – Trustees purchase Newfound Farm
Following the scaling down of the Institute's fruit-breeding research Stanfield farm was sold and the Trustees purchased 56 hectares close to Colney at Newfound Farm. This enabled experiments on new types of peas, in particular 'leafless' and 'semi-leafless' pea plant models. The semi-leafless form was to prove particularly significant and now represents the majority of new varieties being registered and grown.
1977 – Trustees begin to build Bateson archive
The Trustees' began to invest in building up a comprehensive William Bateson archive with a purchase of microfilmed Bateson letters from the American Philosophical Society. Cataloguing the Bateson letters and papers began. Today the Bateson collection includes over 10,000 items. http://collections.jic.ac.uk/
1980 – Ultrastructural Studies Laboratory
The extension to the Ultrastructural Studies Laboratory was funded by the Trustees (£121,000).
1980 – Professor Harold Woolhouse appointed Director
Appointment of Professor Harold Woolhouse as Director. Woolhouse introduced research on understanding the biochemistry of photosynthesis (C3-C4 metabolism). He played a pivotal role in making the John Innes a world centre for plant and microbial sciences, with strategic measures which included negotiating the founding of the Agricultural and Food Research Council's (AFRC) new Institute of Plant Science Research at Norwich, facilitating the foundation of The Sainsbury Laboratory and initiating the transfer of the AFRC Nitrogen Fixation Laboratory from the University of Sussex. During his time as Director the staff on the John Innes site grew from just over 200 to over 800.
1981 – History of Genetics Library created
1981 – Sixth Form Scholarships introduced
Establishment of annual John Innes Charity Sixth Form Scholarships to support the development of able young biologists with potential to contribute to biological research in the future.
1983 – Charity renamed the 'John Innes Foundation'
The John Innes Charity was re-named the 'John Innes Foundation'.
1983 – First Demonstratorship funded
The Trustees funded the first Joint Demonstratorship with the University of East Anglia in the UEA's School of Biological Sciences.
1983 – New Growth Room building completed
New Growth Room building completed (c. £87,000 of Trustees' funding) to house eight plant growth rooms and their associated services, offices, laboratory and preparation area.
1985 – William Bateson's library purchased
The Trustees purchased the private library of William Bateson (1861-1926). This library contains c. 230 titles, mostly on scientific and literary subjects, but also including works on travel and topography, language, sociology, religion and music. Many books include annotations by William Bateson.
1985 – Trustees negotiate on independence of John Innes
The Agricultural and Food Research Council (AFRC) circulated its 'Forward Policy' which included the proposal that its research institutes be re-organised into eight 'super' institutes, all employees to be directly employed by AFRC. The Trustees opposing this began negotiations to safeguard the independence of JI.
1985-6 Molecular era of snapdragon genetics begins
Cathie Martin and Enrico Coen publish two landmark papers. Their work represented one of the first examples of the use of transposon tagging to identify genes and had an important impact on the understanding of pigment biosynthetic pathways. It was partly responsible for the revival of Antirrhinum as a model system for plant genetics.
1985-1990 Lab training in genetic manipulation of Streptomyces launched
John Innes Foundation publish a Streptomyces laboratory manual (Hopwood et al., 1985), which sold over 2000 copies over the following decade, with a Chinese translation also being produced. A second updated and expanded edition was published in 2000.
1986-87 – Formation of Institute of Plant Science Research
In 1986-7 the Institute of Plant Science Research (IPSR) was formed as a virtual organisational entity comprising the John Innes Institute, the Plant Breeding Institute (fundamental and strategic science element) and the AFRC Unit of Nitrogen Fixation at the University of Sussex.
1987 – Sale of Plant Breeding Institute and formation of 'Cambridge Lab'
In 1987 the applied programmes and farm site of the Plant Breeding Institute in Cambridge were sold to Unilever. A new three-storey 'IPSR Cambridge Laboratory' was built at Colney to accommodate the non-privatised PBI staff and resources. The remainder of the proceeds of the Cambridge sale (the £38.8M) was used by the Trustees of the PBI to build a new library, laboratories, glasshouses, controlled environment chamber facilities for plant growth on land leased for a peppercorn from the John Innes Foundation. The Plant Breeding Institute had been founded in 1912 as a flagship national research institute under the leadership of wheat breeder Rowland Biffen and ended as an international research leader with its wheat varieties occupying 90% of the UK wheat acreage and with over 86% of UK cereal crops being PBI varieties (many recognizable by the prefix 'Maris'). Since the move the financial and scientific legacy of PBI and the Cambridge Lab has been integral to the success of large, multidisciplinary teams working on Arabidopsis, wheat, and brassica genetics and developmental biology. https://www.jic.ac.uk/research/
1987 – Introduction of John Innes Foundation prizes
Introduction of John Innes Foundation Prizes, awarded annually to the best first and second year students in the School of Biological Sciences at the University of East Anglia.
1988 – Completion of administrative extension
Completion of the administrative extension at a cost to the Trustees of c. £180,000
1988 – Dr Richard Flavell appointed new Director of JI
Appointment of Dr Richard Flavell as Director of the John Innes Institute. His appointment marked John Innes's expansion as a major UK focus for plant and microbial genetics, cell and molecular biology. He was awarded an FRS in 1998 and a CBE in 1999 for his contributions to plant sciences.
1989 – Cyril Darlington library purchased
The Trustees purchased the working library of the Institute's third Director, Cyril Dean Darlington. This library comprises c. 200 volumes on Sociology, Eugenics, Economics, Genetics, History, Language, Agriculture, Psychology, Literature, Politics, Race, Crime, Intelligence, Philosophy, Folklore, Biography, etc.
1989 – The Sainsbury Laboratory founded
The 3-storey Sainsbury Laboratory (TSL) was founded for the investigation of the molecular biology of plant-pathogen interactions with funding from the Gatsby Charitable Foundation, a Sainsbury Family Charitable Trust. TSL was the fruit of the success of the JII Genetics Department research programme. The three founding scientists were director Mike Daniels, David Baulcombe and Jonathan Jones. http://www.tsl.ac.uk/about-tsl/history/
1989 – Mike Gale produces first RFLP map in wheat
Mike Gale in the Cambridge Lab produced the first RFLP map in wheat (an early form of genome mapping) to reveal the conserved marker order between three ancestral wheat genomes.
1989 – AFRC support for plant molecular biology launches
The Agricultural and Food Research Council launched a support programme for plant molecular biology with a third of the funding allocated to work on Arabidopsis thaliana. This initiative boosted Arabidopsis work already underway in the Molecular Genetics Department of the Cambridge Laboratory led by Professor Mike Bevan. Research landmarks over the next decade included Nick Harberd's team identifying and isolating the dwarfing gene that was central to the 'Green Revolution'. Mike Bevan initiated the sequencing of the Arabidopsis genome in 1996 and coordinated international efforts until the genome was completed in 2000. In 2000 Caroline Dean's team identified and isolated the plant gene FRIGIDA which controls whether or not a plant needs a winter period before it will flower.
1990 – James Innes retires
Trustee Colonel James Innes retired after forty years as a trustee.
1990 – New John Innes Library opens
The new John Innes library building, housing the John Innes Archives and History of Genetics Library, and the John Innes Trustees' Special Collection of rare books was established in purpose-built accommodation in the new library.
1990 – International development role for Cambridge Lab begins
Early in 1990 members of the Cambridge Lab began to be heavily involved in international agricultural research, using the expertise of the Institute to help poor disadvantaged farmers in developing countries improve their livelihoods through better farming methods.
1990 – Cathie Martin and Alison Smith publish landmark pea research
Cathie Martin, Alison Smith and colleagues at John Innes published their landmark investigation into a pea mutant showing that the mutant pea carried a mistake in a crucial gene for starch formation. Today Professor Cathie Martin leads investigations into natural chemical compounds in plants with a view to improving the human diet, while Professor Alison Smith's research is directed at understanding primary metabolism in plants, particularly the metabolism of sucrose and starch and how this affects growth and yield.
1993 – Norwich Research Park formed
The research laboratories on the John Innes site, the Institute of Food Research, MAF Food Science Laboratory and British Sugar Technical Centre combined with the UEA Schools of Chemical and Biological Sciences to form the Norwich Research Park.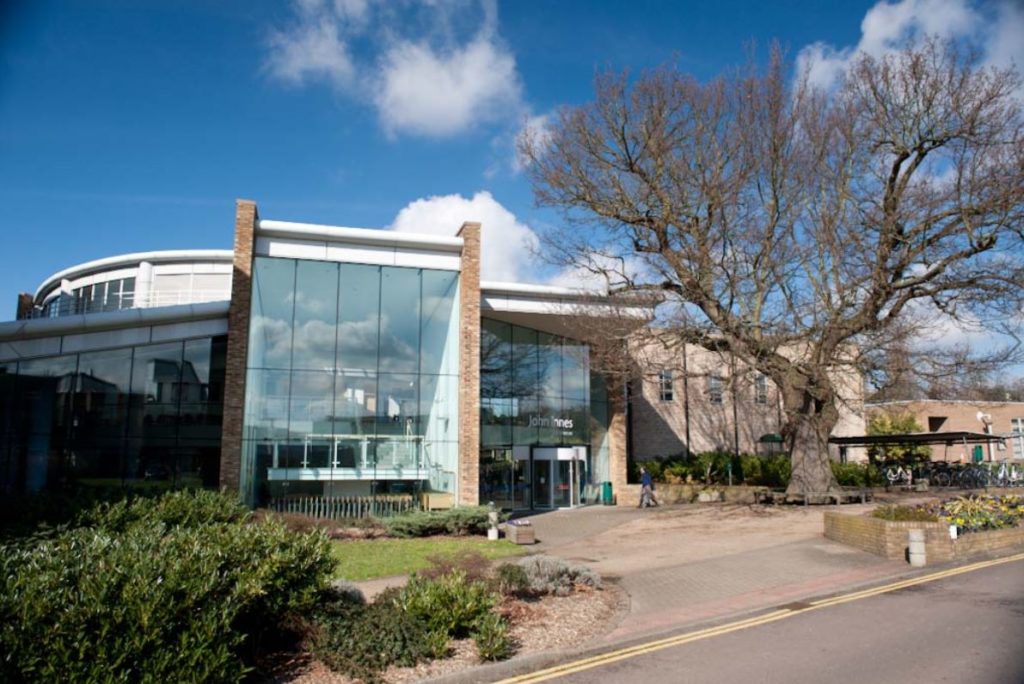 1994 – Institutes merge into the John Innes Centre & NFL moves to Colney
The Trustees of the John Innes Foundation, the Agricultural and Food Research Council, and the Trustees of the Cambridge Laboratory agreed to merge the John Innes Institute, the AFRC Unit of Nitrogen Fixation, originally founded under the directorship of leading inorganic chemist Professor Joseph Chatt, FRS, and the Cambridge Laboratory into a new institute – the John Innes Centre. Plans were agreed to relocate the AFRC Unit from Sussex and re-name it the 'Nitrogen Fixation Laboratory' with a new purpose-built laboratory. Among the team was Dr Ray Dixon, who created the first 'engineered' nitrogen-fixing microbe and was elected FRS in 1999.
1994 – Plant Bioscience Ltd is formed
Plant Bioscience Ltd. (PBL), previously John Innes Centre Innovations Ltd., was formed in 1994 by the John Innes Centre and the Gatsby Charitable Foundation to commercialise innovative technologies spun out of the institutes. http://www.pbltechnology.com/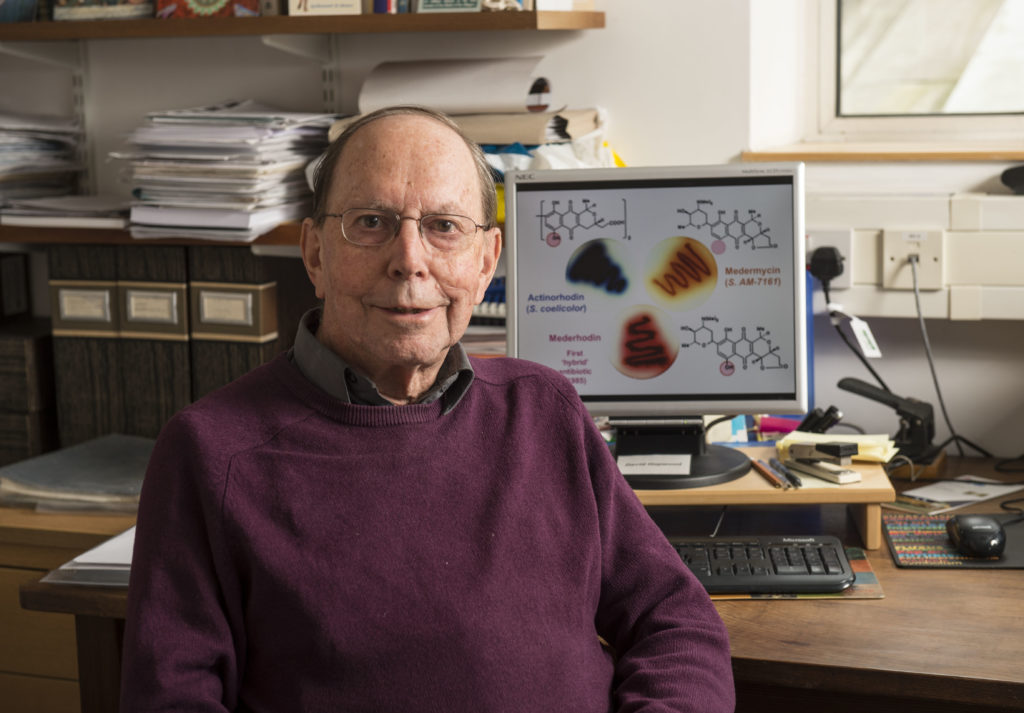 1994 – Professor David Hopwood knighted for 'services to genetics'
Professor David Hopwood FRS was made a Knight Bachelor in the Queen's Birthday Honours for 'services to genetics'.
1994 – JIF Trustees lease the Colney site to JIC for 50 years
Creation of the John Innes Centre from the merger of the John Innes Institute, the Cambridge Laboratory and the Nitrogen Fixation Laboratory. As part of the arrangements for the merger the Trustees of the John Innes Foundation gifted the assets of the John Innes Institute to the John Innes Centre and leased the Norwich site to JIC for 50 years at an annual rental of one tree.
1995 – Joseph Chatt building opens
The Joseph Chatt Building is opened to house Nitrogen Fixation scientists. JIC re-named two of its existing buildings: 'Biffen' (formerly the Cambridge Laboratory building) and Bateson (the main John Innes labs and administration) to complement the new Chatt building.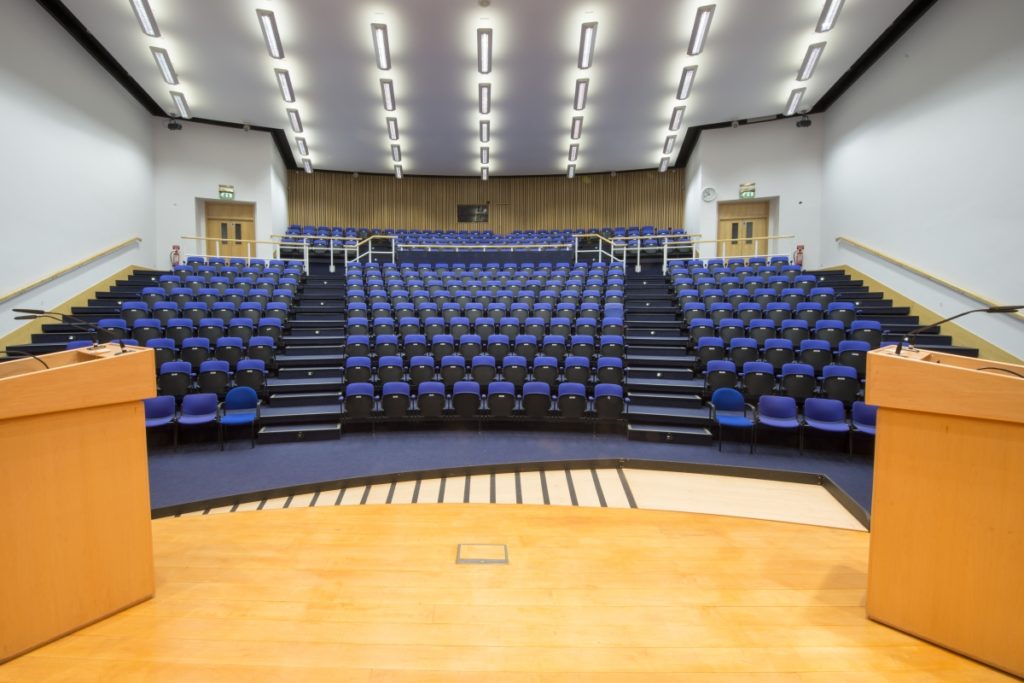 1995 – John Innes Conference Centre opens
The John Innes Conference Centre, first proposed in 1991 and funded by the Trustees and by public appeal is opened.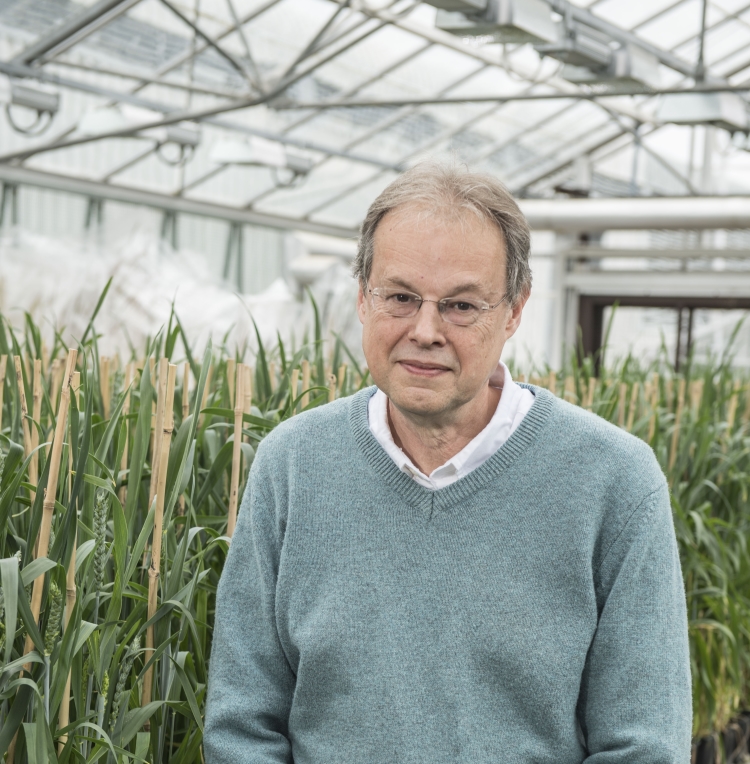 1995 – Graham Moore publishes synteny concept
Graham Moore in the Crop Genetics Department at JIC published his synteny concept in a landmark paper. Using genetic mapping data for a number of different crops, Moore and colleagues showed that the order of genes in regions of the wheat genome is the same as in other smaller cereal genomes. As a result researchers can use rice, which has a much smaller genome than wheat, to find the same genes in wheat, and make predictions from one crop to another.
1997 – Funding of new Controlled Environment Rooms
The Trustees agreed to fund a new building to house additional Controlled Environment Room facilities (£0.55m) and a horticultural barn (£0.1m).
1997 – Archivist appointed
Funded by the Trustees, professional archivist, Elizabeth Stratton, was appointed with responsibility for the Special Collection of Rare Books and the John Innes Archives.
1997 – JIF Emeritus Fellowships inaugurated
The John Innes Foundation Emeritus Fellowships inaugurated. These facilitated the extension of senior scientists' research activity beyond their retirement date, and include provision of office and bench space at JIC. John Innes Foundation Emeritus Fellows included Professor Sir David Hopwood, Professor Mike Gale and Professor Keith Chater.
1998 – Trustees purchase Church Farm, Bawburgh
The Trustees purchased Church Farm, Bawburgh, 290 acres close to JIC to meet future demand for experimental plots and field trials for cereals research.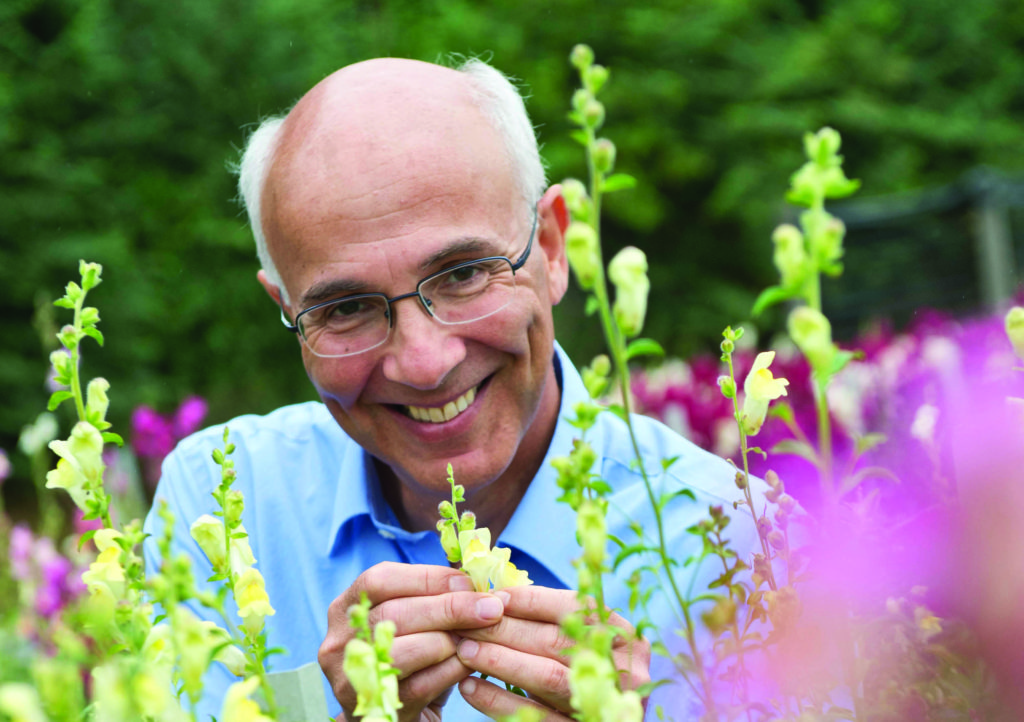 1998 – Professor Enrico Coen elected FRS for outstanding research on how flowers are formed
Professor Enrico Coen elected FRS for his outstanding research into how flowers are formed. In 1999 Coen's team solved the mystery of peloric or 'monster' flowers in toadflax (Linaria vulgaris). They showed that the abnormal toadflax flowers are caused by a naturally occurring mutation of a single gene that controls flower symmetry.
1999 – Graduate Studies Office opened
The Graduate Studies Office (GSO), sponsored by the BBSRC, was founded as a 'one-stop-shop' to oversee all postgraduate student programmes and deliver JIC's objectives of attracting, selecting and training the best students. On establishment there were 150 JIC PhD students and the office was also responsible for postgraduates at IFR and TSL. Since GSO was founded, John Innes Foundation has funded or part-funded over 100 PhD students.
1999 – Professor Chris Lamb appointed Director of JIC
Professor Chris Lamb was appointed Director of JIC. A leading plant biologist, he made seminal contributions to the understanding of the molecular mechanisms that underpin how plants defend themselves against attack by pathogens. He re-organised the existing departments and augmented and promoted Computational and Systems Biology, which became a department in its own right. He was elected FRS in 2008.
2000 – Trustees support postgraduate training
The Trustees agreed to support a new programme of postgraduate training at JIC and for a student seminar programme.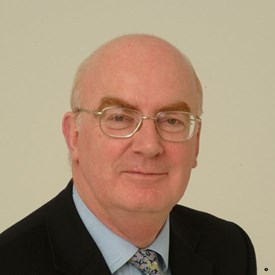 2000 – Trustee Professor Chris Leaver FRS awarded CBE
Trustee Professor Christopher Leaver was awarded CBE for services to plant science.
2001-03 'Growing the future' workshops sponsored
The Foundation co-sponsored (with the Lawes Agricultural Trust) three 'Growing the Future' Workshops. The series convened a small group of international experts to deliver insights on areas requiring further research and offered a synthesis of key messages to inform and influence public opinion and policy.
2001 – Genome Building opens
Opening of £13 million Foundation-owned Genome Building to accommodate separate JIC and Syngenta and a top floor Norwich Bio-incubator. The new venture provided the most advanced research facility in the UK for plant and microbial genomics and post-genomics studies. The Bio-incubator was to encourage 'spin-out' companies to locate to JIC and was funded by the East of England Development Agency and John Innes Foundation. Although Syngenta's alliance with JIC proved short-lived, the company withdrawing within less than a year following its decision to move its R&D to USA, the building today houses the Earlham institute.
2003 – Rotation PhD Programme begins
The 4-year rotation PhD programme was established to support outstanding UK, EU and international students. John Innes Foundation remains the principal funder, contributing £350k annually. http://students.jic.ac.uk/programmes/rotation/.
2004 – Caroline Dean elected FRS
Caroline Dean was elected FRS (and awarded OBE) for her outstanding contributions in the study of developmental timing in plants. Her work on vernalization – the period of cold some plants need in order to flower – revealed the mechanism by which plants remember they have experienced winter and demonstrated novel RNA processing mechanisms controlling flowering. Dean's Lab research, which includes how plants will adapt to climate change, is part of the Cell and Developmental Biology Department at John Innes.
2006 – Key gene characterized that controls how chromosomes pair (Ph1)
Dr Graham Moore's group at JIC, using their prior work on synteny, characterised a key gene complex that controls how chromosomes pair (Ph1). A major advance in wheat genetics, this knowledge is being utilised to help breeders cross elite wheat varieties with wild varieties to give new traits like increased tolerance to drought, disease resistance and other desirable characteristics.
2008 – Bioimaging suite opens
Opening of Bioimaging suite in the Biffen Building.
2008 – Professor George Lomonossoff patents CPMV-HT technology
Professor George Lomonossoff's CPMV-HT technology was patented by Plant Bioscience Ltd. (PBL). This plant molecular production system can be used to produce a wide range of novel substances (molecular pharming) and is an example of synthetic biology in practice. Potential applications include vaccine production, anti-cancer drug delivery and HIV drugs.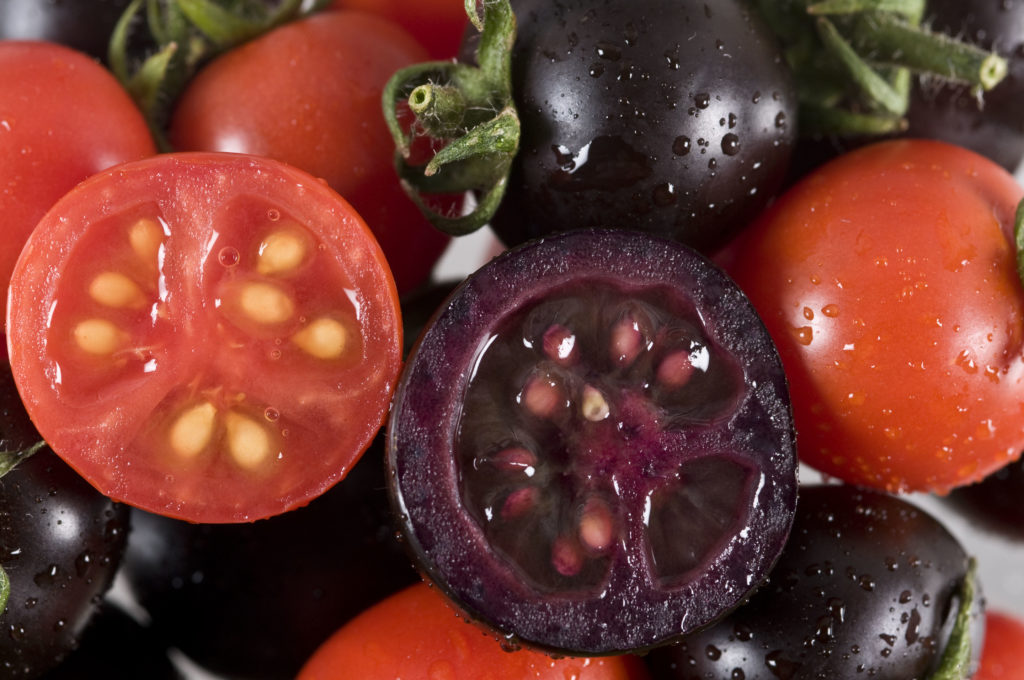 2008 – Purple tomatoes with potential to promote human health
Professor Cathie Martin, Dr Eugenio Butelli and colleagues made a significant breakthrough when they expressed genes from snapdragon (Antirrhinum) in tomatoes to grow purple tomatoes with enhanced levels of anthocyanins. Anthocyanins (a class of pigments produced by higher plants) offer protection against certain cancers, cardiovascular disease and age-related degenerative diseases. Martin's group's research was one of the first examples of plant metabolic engineering to offer the potential to promote human health through diet.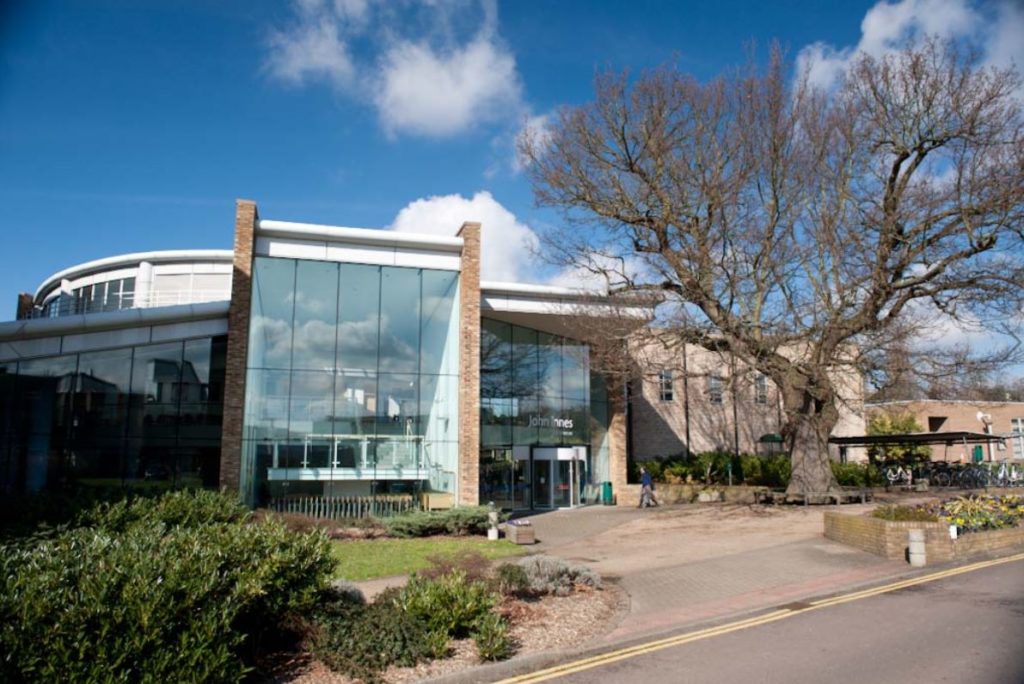 2009-10 – John Innes Centenary celebrations
JIC celebrated its centenary. Its first open day for over 20 years attracted over 1700 visitors.
2009 – The Genome Analysis Centre established
The Genome Analysis Centre (now Earlham Institute) was established as a new BBSRC funded institute on the John Innes site and began occupancy of the Foundation-owned Genome Building.
2010 – Number One ranking for JIC and TSL
JIC and The Sainsbury Laboratory were ranked number one for academic citations in the world in the field of plant and animal science, based on an independent survey by Thomson Reuters.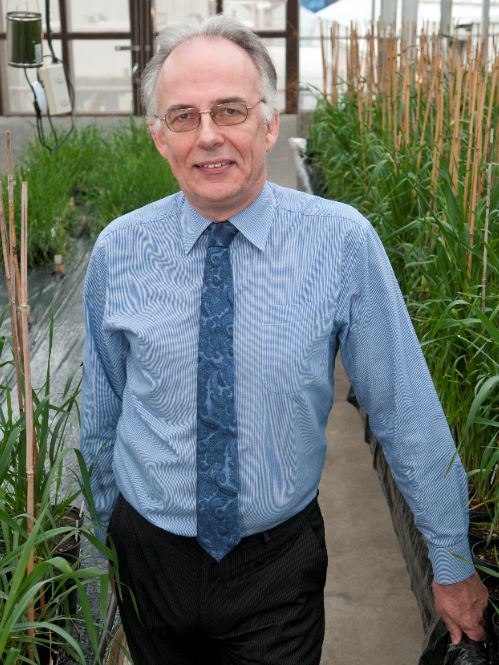 2010 – Professor Dale Sanders FRS appointed Director
Professor Dale Sanders, FRS was appointed Director of JIC. Formerly Head of the Department of Biology at the University of York (from 2004), his specialism is the mechanisms for the transport of chemical elements across cell membranes in plants.
2011 – Chris Lamb Training Suite opened
The Chris Lamb Training Suite was opened. This is a shared training facility with TSL and is used for JIC/TSL undergraduate studentship programmes. It highlights the emphasis JIC places in training the science leaders of the future.
2011 – New corporate governance
With the aim of developing a more appropriate relationship between BBSRC and the institutes, new governance arrangements created three corporate members of the John Innes Council: UEA, JIF, and BBSRC, each with rights to appoint to the Board.
2012 – Norwich Research Park (North) created
The JIF Trustees joined UEA and BBSRC in pooling assets to create Norwich Research Park (North). The park is operated by Anglia Innovation Partners LLP.
2012 – Symposium to celebrate PBI centenary
The John Innes Centre hosted a symposium 'PBI 100' to celebrate the centenary of the founding of the Plant Breeding Institute. The event brought together PBI alumni from around the world to celebrate PBI's achievements and influence on plant science and legacy in the plant breeding sector.
2012 – Nitrogen Fixation group wins grant from Gates Foundation
Giles Oldroyd's group was awarded a $10m (£6.4m) grant from the Bill & Melinda Gates Foundation to develop their research on nitrogen fixation. This was part a collaborative project between UK, USA, Denmark and France to explore engineering nitrogen symbiosis for Africa.
2012 – Wheat Improvement Strategic Programme established
BBSRC established and funded the Wheat Improvement Strategic Programme (WISP) led by Professor Graham Moore at JIC. The aim is to develop germplasm to facilitate identification, dissection, and assessment of novel genetic variation for traits available in landraces and exotic bread wheat lines not yet utilised in UK wheat breeding programmes.
2012 – JIC's Germplasm Resource Unit a 'National Capability'
JIC's Germplasm Resource Unit (GRU) became a National Capability. This formed the largest and most authoritative seed collection for wheat, oats, and barley and peas.
2014 – JIC signs new lease with JIF
JIC signed a 60-year lease with JIF, with an option for another 60 years, for the reduced demise encompassing the JIC buildings.
2014 – Three JIC scientists in top 1%
A study by Thomson Reuters named three JIC scientists in the top 1% of highly cited plant and animal scientists across the world: Professor Alison Smith, Professor Caroline Dean, FRS and Professor Giles Oldroyd.
2014 – Professor Cathie Martin and Dr Eugenio Butelli win 'Most promising innovator' award
Professor Cathie Martin and Dr Eugenio Butelli were named BBSRC 'Most Promising Innovators'. The award celebrated the development of their research on model foods which included genetically modifying tomatoes to contain high levels of anthocyanins, flavonols, resveratrol and genistin and their potential dietary and medical benefits.
2014 – The Centrum opens
The Centrum Building opened. This facility, providing flexible laboratory, office and public meeting space was a centrepiece of a £26m investment from BBSRC.
2014 – Chinese Academy of Sciences – JIC Centre of Excellence
The joint Chinese Academy of Sciences (CAS) – JIC Centre of Excellence in Plant and Microbial Science was launched. The new £12m Centre, which spans the two countries, will enhance research to support the agricultural technology and microbial genetics agendas of both countries.
2015 – Trustees sell Church Farm to JIC
The Trustees sold Church Farm, Bawburgh to the John Innes Centre securing JIC's long-term use of the farm for field trials.
2016 – Professor Caroline Dean created a Dame
Professor Dean's Lab has focused on the timing of the transition to reproductive development of plants, yielding novel insights on epigenetic mechanisms and micro-evolution. Her team uses Arabidopsis as a reference to establish the regulatory hierarchy and then their findings are translated into other species. She was elected FRS in 2004 and in 2016 awarded the Royal Society's Darwin Medal.
2017 – Chestnut Nursery School opens on Park
The opening of the nursery school was made possible by a £250,000 donation from the John Innes Foundation trustees.
2018 – Chris J. Leaver Fellowship
The fellowship, named after a long-serving trustee and funded by the John Innes Foundation was initiated. The first fellow David Seung's research project is on starch granule initiation.
2018 – JIC Field Station opened at Church Farm
John Innes Foundation contributed £0.5m towards the construction of this state-of-the-art facility.
John Innes Centre today
Facilities at the JIC on a 50 acre (20 hectare) site today include over 8,000m2 of conventional and containment glasshouses, 187 m2 of controlled environment suites for plant growth, a germplasm storage unit (housing more than 40,000 accessions) and over 400 acres (160 hectare) for field trial sites. Over, 30,000 m2 of specialised laboratories cater for microbial, cell biological, biochemical and molecular biological research supported by a range of specialist research facilities which are part of the shared resources of Anglia Innovation Partners. There is also a modern conference centre, an extensive library and a collection of rare books and archive material. About 900 scientists and support staff work on the John Innes site (including JIC, TSL, Quadram, Earlham Institute and the shared administration function, the NBI Partnership).
Copyright 2018, John Innes Foundation | John Innes Foundation (JIF) is an independent charity (registered Charity No. 1111527) and a company limited by guarantee (registered no. 5574485). |